Desire Resort and Spa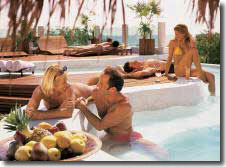 Experience the Desire Resort and Spa - An exciting deliciously erotic Lifestyles adventure is now ready and waiting especially for you.
A sublime hideaway for couples set on an exquisite white sand beach on the famous Riviera Maya.
You will enjoy a sense of freedom like no other on Earth. Renew your passion, soak up the sun, have fun, let go, indulge and most important be the person you have always wanted to be. After all, we designed this resort for the two of you. We are here to make your Desire come true.
Truly a place where superb architecture harmonizes flawlessly with the vibrant hues and natural beauty of the region to provide a picture perfect setting for your special getaway.
Special Inclusions
Desire Resort and Spa Special Features just for booking with GoAwayTravel.com!
Reduced rates - Click Here for a discounted price quote.
HONEYMOON PACKAGE
Complimentary Oceanview room (subject to availability)
Bottle of domestic champagne
Honeymoon gift in room
Proof required at check in
PACKAGE INCLUSIONS ARE SUBJECT TO CHANGE
Desire Resort and Spa is located 20 minutes south of the Cancun International Airport, in the Bay of Petempich in Puerto Morelos, the first tourist development of the Riviera Maya. To the north the resort is 20 minutes away from Cancun and to the south, 20 minutes from Playa del Carmen. Truly an excellent location, close to all major points of interest.
This is a couples only resort. Guests must be a minimum of 21 years old.
Guests are honeymooners, nudists, swingers and everything in between.
All Inclusive Inclusions
All meals (buffet breakfast, lunch and dinner)
"A la carte" dining at specialty restaurant (reservations required)
Daytime snacks
Drinks, wine, beer and refreshments
Day & evening entertainment program
Introductory scuba lessons in pool
Non-motorized water sports (kayak & windsurf boards)
Tennis, ping-pong and board games
Au-Natural Beach area
AU-NATURAL NEW OUTDOOR JACUZZI(Temperature 97°F) and Lounge Area.
Use of sauna, steam room and Jacuzzis in SPA
Honeymoon package available
Hotel taxes and tips
Drink Brands that are Included:
Rum: Bacardi Bianco, Bacardi Limon, Havana Club 3 Anos, Havana Club Silver Dry, Appleton Blanco, Appleton Especial, Bacardi Anejo, Bacardi Solera
Brandy: Brandy Don Pedro, Brandy Presidente, Brandy Terry Cen., Brandy Funador
Whiskey: Johnny Walker Red Label, Passport, J & B, Canadian Club, Cutty Sark, Ballantines Finest, William Lawson's
Bourbon: Jim Beam
Vodka: Smirnoff, Wyborowa, Absolut Azul
Gin: Oso Negro, Beefeater, Tanqueray
Tequila: Cuervo Especial, Sausa Conmemorativo, Tequila 100 Anos
White Wine: LA Cetto Chardonay, LA Cetto Zinfandel
Red Wine: LA Cetto Neviolo
Others: Anis Chinchon Dulce, Anis Chinchon Seco, Pernod de Anis, Baileys Cream, Lico de Cafe Kahlua, Crema de Melon Flamingo, Licor del 43, Jerez Dry Sack, Jerez Tio Pepe, Dubonet, Frangelico, Galiano
Amenities
Clothing optional swimming pools, one oceanfront with (social activities) and the other for quiet relaxation located by the lobby area
Three restaurants including snack bar
Four bars.
Disco Lounge.
SPA featuring sauna, steam room and various SPA treatments
Au-natural outdoor Jacuzzi lounge with sit down & swim-up bars
Au-natural beach.
Guests only Play Room with a very accommodating ambiance
Water sports
Logo shop
Ping pong tables
Tennis court
Premium wines and liquors available for purchase
Activities
Beach, Land & Water Activities
Daily Activities
10:00 Stretching & Aerobics Classes
10:30 Bocchi Ball and Horseshoes
10:30 Beach Volleyball
12:00 Water Aerobics
12:45 Pool Games
1:00 Tequila Volleyball
2:00 Lazy Bingo, Ping Pong & Darts Tournaments
2:30 Desire Time
3:30 Water Polo
4:00 Dance Classes
10:30 Disco Opens
11:00 Contests
Themes
Sunday - Lazy Sunday
Monday - Shoes & Wigs
Tuesday - 70s & 80s
Wednesday - Nights of the Caribbean
Thursday - Masquerade
Friday - Reggae Night at the Beach
Saturday - Lingerie & PJs
Desire Time (at 2:30 pm everyday)
Sunday - Body Painting
Monday - Doggie Style
Tuesday - Human Sundae
Wednesday - Miss Desire
Thursday - Kiss My Boxers
Friday - Popping Positions
Saturday - Swimsuit Swap
Nightly Games
Sunday - Fake Orgasm
Monday - Cheap & Dale
Tuesday - Kissing
Wednesday - Dance
Thursday - Costumes
Friday - Evenflo
Saturday - Striptease
Spa
Desire Resort & Spa offers complete Spa services with the following:
5 massage cabins (1 double and 4 single cabins)
1 Jacuzzi up to 4 people
Steam room for men and women (separate)
Sauna (mixed for men and women)
Shower and bath installations
Beauty Parlor
Gym with weight machines, treadmills, stairmasters and free weights
The Spa offers a wide selection of spa treatments to choose from, including body treatments, massages, facial treatments and the following special packages:
Spa Menu
BODY TREATMENTS
BODY EXFOLIATION. $ 42.00
AN IDEAL BEFORE EXPOSING YOUR BODY TO THE SUN.
Enjoyable tropical exfoliation treatment formulated with essential oils, herbs and coconut which refresh and soften your skin. Removes dead skin cells, activates circulation, purifying and oxygenating your skin.
BODY WRAP WITH SEEWEEDS. $ 68.00
REAFFIRMING
A fantastic combination of seaweeds and herbs (eucalyptus, mint and rosemary) of natural origin. Your skin will look and feel firmer due to the high richness in oils which mineralize your body leaving healthier skin.
BODY WRAP WITH FANGO MUD. $ 68.00
ANTICELLULITE
A combination of volcanic mud of natural origin which helps to activate the body circulation and mineralizes the skin, helps in eliminating the water deposits that cause cellulite.
REFRESHING BODY TREATMENT. $ 63.00
IT IS IDEAL AFTER SUNTANING.
This body treatment is deeply moisturizing and mineralizing due to the combinations of different lactic acids of natural origin that provide smoothness, beauty and wellness to your skin and body.
MASSAGES
RELAXING MASSAGE $ 53.00 (50 min) $ 32.00 (25 min)
A gentle massage using smooth and flowing strokes to relax and unwind. This traditional massage loosens and soothes tight and sore muscles, while increasing circulation and improving over all skin and muscle tone.
SPORT MASSAGE $ 55.00 (50 min) $ 35.00 (25 min)
A deep form of massage to help balance problem areas, releasing toxins from your body while also using stretching and joint movement techniques. And ideal massage for after workouts and to aid active individuals who want to maintain optimum body performance.
HOT STONE MASSAGE $ 63.00
Experience the luxurious and relaxing massage combined with deep heat therapy. Smooth stones are heated in incorporated in to the massage. The perfect treatment to loosen tight muscles, relieve stress and relax your body and mind.
FANGO MASSAGE $ 84.00
A wonderful combination of plants and relaxing massage that helps to activate blood circulation and will eliminate toxins from your body.
AROMATHERAPEUTIC MASSAGE $ 55.00 (50 min) $ 35.00 (25 min)
An anti-stress treatment applying aromatic essential oils to massage the entire body, which promotes the release of tension, therefore, bringing an increased sense of well-being and total relaxation.
REFLEXOLOGY $ 32.00 (25 min)
A massage that is done solely on the feet, while applying pressure points on specific areas of the feet which correspond to areas throughout the body for a deep relaxing feeling.
FACIAL TREATMENTS
DEEP CLEANSING FACIAL $ 57.00
All skin types This facial starts with an exfoliation and steam therapy for deep pore cleansing and includes an anti-stress facial massage for rejuvenation.
CELULAR REGENERATING FACIAL $ 63.00
This is a deluxe treatment for stressed and damaged skin. Your skin is cleansed and toned with a facial massage.
BALANCING FACIAL $ 63.00
For those skin types that need luminosity and protection from artificial or natural light, providing relief from harmful environmental pollutants that may be damaging to the skin.
CRYSTAL TERAPY FACIAL. $ 63.00
This facial offers a relaxing experience, while nurturing your skin. It includes a Shiatsu facial massage and the application of a gel and crystal mask.
SPECIAL PACKAGES:
1.- CLEANSING PACKAGE. 2:00hrs.
Includes:
Deep cleansing facial
Body exfoliation
Relaxing Massage (30 minutes)
Regular Price: $ 131.00 Package Price: $ 105.00
2.- REHYDRATING PACKAGE: 2:30 hrs
Includes:
Crystal therapy facial
Refreshing body treatment
Reflexology (30 minutes)
Regular Price: $ 158.00 Package Price: $ 126.00
3.- REGENERATION PACKAGE: 3:00 hrs
Includes:
Celular Regenerating facial
Body wrap with fango mud
Hot Stone massage (60 minutes)
Regular Price $ 194.00 Package Price: $ 155.00
4.- COUPLES SPECIAL 1:30 hrs
Includes:
2 relaxing massages (30 minutes)
Kamasutra Kit.
A bottle of red or white wine served in the jacuzzi with Candles and aromatherapy
Package Price: $ 150.00
Note: Prices and packages subject to change without notice
Dive Packages - Packages are available for both beginners and licensed divers. Packages include open water dives, 1 and 2 tank dives, and certification courses. Arrangements can be made through Guest Services
Snorkeling Trips - 2-hour snorkeling trips to the Puerto Morales reef are available each day at 1:00 pm. Prices begin at $25 US per person. Arrangements can be made through Guest Services.
Outside Tours - Cancun and the Mayan Riviera offer a wealth of sightseeing and tours. Check with Guest Services to learn which of the following is available during your stay.
Isla Mujeres, (Island of Women)
Xcaret Eco-archeological Park
Swim with the dolphins
Deep Sea Fishing
Puerto Morelos Snorkel
Speed Boat and Snorkel Tour
Tulum Xel-ha
Caribbean Carnival
Weddings & Honeymoons
Make your wedding special at Desire Resort and Spa! Packages range from Basic to Deluxe, with prices from $960 to $1485 US. The Wedding Coordinator will help you plan a ceremony of your dreams. The Basic Package includes:
Marriage License and Certificate
Complete Legal Organization
Fee for Bilingual Minister
Bouttoniere for the groom
Guaranteed up-grade to Ocean View Room
Wedding Cake (6 to 12 persons)
Wedding location nicely decorated (palapa by the beach with white silk flowers, red carpet, white decoration for the chairs, tables and more)
Waitress at your service during the ceremony
Wedding Dinner in Restaurant
Witnesses (if required)
CD player or Tape player available (bring your special songs)
Services of the Wedding Coordinator that will help you with all the necessary arrangements.


Vow Renewals
Already married, but wish to renew your vows? Desire Resort & Spa offers a Vow Renewal package for only $535.00. It includes the following:
Non Denominational Christian Pastor
Fee for bilingual shepard
Guaranteed up-grade to Ocean View Room Buttonhole for the Bride and Groom
Bottle of National Champagne for the ceremony
Wedding Cake (6 to 12 persons)
Wedding location nicely decorated (palapa by the beach with white silk flowers, red carpet, white decoration for the chairs, tables and more)
Waitress at your service during the ceremony
Wedding Dinner in a romantic setting
Witnesses (if required)
CD player or Tape player available (bring your special songs)
Services of the Wedding Coordinator that will help you with all the necessary arrangements

Note: Prices subject to change without notice
Dining
Restaurants
El Arrecife - The main restaurant serving breakfast, lunch & dinner buffet-style. Casual. Reservations not required. For dinner every evening there is a different menu theme ranging from Italian, Mexican, Oriental just to name a few.
IL Piacere Specialty Restaurant - A beautiful restaurant & piano bar serving fine international cuisine a la carte. Reservations required.
Cielto Lindo Specialty Restaurant - A beautiful Mexican restaurant serving fine Mexican cuisine a la carte. Reservations required.
Coconut Grill - A snack bar located by the main pool area serving a variety of grilled specialties. Open for lunch.
Bars and Lounges
Melange Lobby Bar - Open-air bar located by the pool area serving your favorite drinks
Nude Jacuzzi Lounge Bar - A clothing optional Jacuzzi lounge & bar reserved exclusively for guests (Jacuzzi accommodates up to 30 people)
L`Alternative Disco Lounge - Dance the night away and enjoy making new friends
Coconut Bar - Facing the spectacular beach open during the day for poolside drinks.
*Days of operation and schedules vary by season
Accomodations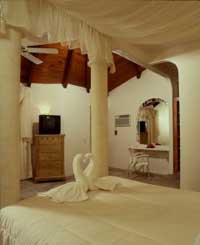 Maximum occupancy is 2 people. Specific bedding and/or special requests are fulfilled based on availability and cannot always be guaranteed. Room amenities include air conditioning (some with ceiling fan), satellite TV and music selection, telephone, safety deposit box, bathroom with shower, coffee maker, hair dryer, balcony or terrace (on request).
Gardenview
Oceanview
Jacuzzi Suite Gardenview
Queen bed
Spacious bathroom with Jacuzzi large enough for 2 couples
Welcome bottle of sparkling wine upon arrival
Use of bathrobes
Jacuzzi Suite Oceanview
Queen bed
Spacious bathroom with Jacuzzi large enough for 2 couples
Welcome bottle of sparkling wine upon arrival
Use of bathrobes
Passion Suite
Bedroom with King bed
Sensual living room connecting with the bedroom
Daily Continental Breakfast on terrace
Daily afternoon Hors d oeuvres with sparkling wine on terrace
Air conditioning and ceiling fan
CD/DVD Player (Home Theater - For more info ask at Front Desk upon arrival)
Spacious bathroom complete with a Jacuzzi large enough for 2 couples
Welcome bottle of sparkling wine upon arrival
Use of bathrobes
Spacious oceanview terrace suitable for leisurely breakfast and romantic dinners
Client Comments
GoAwayTravel.com is committed to helping clients choose resorts that best meet their vacation preferences. After each vacation, we encourage our clients to share their feedback with us. We list both positive and negative comments in this section to help our clients make the best possible resort choice. We also work closely with the resorts and tour operators and share these comments with them so that they may continually improve their product.
This is a great clothing-optional 'adult' couples only resort in the Yucatan Peninsula. - Michelle Rivers GoAwayTravel.com agent. Jan. '07 Full review.
Resort Photos
Click on any image for full size photo.
Choose
Create Your Own Vacation
To Search for pricing or to book on your own.
We will monitor rates and notify you of any price decreases you are eligible for, assist you with any changes you may need to make, work directly with resorts to ensure that your requests are noted prior to arrival and act as your advocate should any problems arise during your vacation.
Choose
Find Me A Deal
To have our agents search for you and send you a free quote.
You could search for hours trying to find the best price and fit for your preferences. Our agents are experts at locating the best prices and matching clients up with the right resort for their vacation needs.