Miles of secluded pearl white sand beaches, the Punta Cana resort area of the Dominican Republic is a beach-lover's paradise. The brilliant sands of Juanillo, Punta Cana, Cabeza de Toro, Bávaro, Cortecito, Macao and Uvero Alto beckon to travelers from all corners of the globe. Over 70 charter and regular flights arrive weekly at Punta Cana's international airport from a dozen European cities as well as Canada, the United States and South America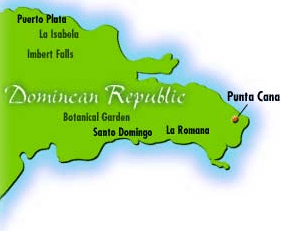 One of the most popular nearby attractions in Punta Cana is Manatí Park Bávaro, comprising a 130,000 square meter preserve with permanent exhibits of live animals, birds, reptiles and fish, as well as remarkable performing dolphins, entertaining sea lions, and talkative parrots. There's also an archaeologically authentic replica of a Taino Indian village.
Several hotels pride themselves on their ecological walks through tropical jungles with the promise of a refreshing dip in a cool spring. Or take a half-day 4 x 4 motorbike adventure tour along the beach shore, with a dive into the Pozo Azul cavern's clear blue waters included or a safari tour to see the countryside. In the region, big game fishing is unsurpassed, and tournaments draw international contestants in the summer. The Marina Punta Cana offers full service, including cable television, with capacity for up to 43 yachts and sailboats 24 hours a day. The region also offers wonderful trails for horseback riders, four golf courses, sailing, and a variety of water sports.