Negril

Coming Soon!

Coming Soon!

Our FREE Newsletter keeps you up to date on:

Last Minute Deals

Limited Space Specials

Latest Travel News

And More!

Your quick link to the most popular pages on our site!

Just click below and go!

A stunning white sand beach hugs the Caribbean for almost seven miles in Negril, the capital of casual at Jamaica's western edge.

Only an hour and a half's drive from Montego Bay, laid-back is a way of life in this sunny resort town, which retains the sleepy tropical charm that first attracted seekers of sun and solitude three decades ago.

Peaceful strolls on powdery white sand, swimming and snorkeling in limpid aqua-blue water, and clothing-optional sunbathing are only part of your "do-as-you-please" Negril vacation.

Craft markets and duty-free shopping opportunities abound. Golf and tennis are available at the Negril Hills Golf Club, just south of town. Horseback-riding treks to the romantic ruins of Whitehall Great House and boat rides to Booby Cay, where the rare, blue-footed booby bird breeds (and portions of "20,000 Leagues Under the Sea" were filmed) are other popular pastimes.

For the adventurous, there's sea-kayaking or mountain biking along the coast and even occasional canoe trips that venture into the mysterious Great Morass, a protected natural area where tall royal palm trees, exotic birds and crocodiles flourish.

With its remarkable coral reefs and calm, clear waters, Negril is a diver's version of paradise. The Negril Scuba Centre is one of the oldest dive operations in Jamaica and offers PADI certification. There are several excellent local companies offering numerous other watersports, including leisurely catamaran cruises.
Negril boasts a broad range of accommodation options, from comfortable, moderately priced rooms, studios and suites to fine all-inclusive resorts catering either to couples or to families.
Villa rentals, inexpensive guesthouses and charming small beachside hotels, are also plentiful. And strung along the grotto-lined cliffs that stretch to the Negril Lighthouse (built in 1895), unique properties with stylishly rustic décor are tucked into the rock face leading down to tranquil hidden coves.
No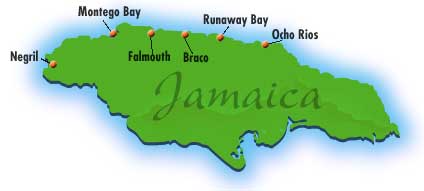 ne of Negril's hotels is taller than the average palm tree, the result of local efforts to limit development and protect natural resources, including the area's spectacular offshore reefs.
According to legend, Calico Jack Rackham and a band of fellow pirates were captured near Negril Harbour (called Bloody Bay for its history as a whaling port) after drinking too much rum. They may have also been distracted by the blaze of orange, mauve and red that makes the end of every day here a cause for celebration.
Today the lighthearted ritual is celebrated by sunset cruises and at several popular viewing spots: the Pickled Parrot, for instance, with its rope swings and slide; and Rick's Cafe, where pre-sunset entertainment includes fire-eaters, jugglers and daring cliff divers.
Negril also has one of Jamaica's liveliest music scenes--everything from festive calypso beach barbecues, to all-night dancing at DeBuss, Alfred's Ocean Palace and other local clubs, to outdoor concerts where the pulsating rhythms of reggae provide the perfect soundtrack for balmy tropical nights.
Negril is one of life's rare pleasures — the ultimate freedom vacation. It's a kick-off-your-shoes, shrug off your blues way of life. Eat and drink, love and laugh, play party and be happy. Negril. Come and take pleasure here in the capital of casual.
Jamaica Tourism Board
Stake out a blanket-sized spot of paradise or meander along soft foot-friendly white sand. The beach is lined with funky eateries oozing ice cold drinks by day and sizzling hot reggae by night.

Enjoy front-row seats as a golden sun sets the sky ablaze in a breathtaking display of tropical hues. The next day do it all again – there's a new show every evening - same cast, different colours.

Jamaica's underwater world is filled with spectacular caves, canyons and crevices...schools of shimmering tropical fish...star, rose and giant pillar coral. All the equipment you need is available from licensed diving operators.

Blue Whale Divers
Tel: 876-957-4438/3792-5

Dolphin Divers
Tel: 876-957-4944
Fax: 876-957-4849

Hedonism II
Tel: 876-957-5200
Fax: 876-957-5289

Negril Scuba Centre
Tel: 876-957-4425

Sandals Resort
Tel: 876-957-5216

Sundivers Negril
Tel: 876-957-4331

West Point Watersports
Tel: 876-957-5170-9

Negril Lighthouse

The highest structure in Negril, it towers 100 feet above sea level

Rick's Cafe

One place you mustvisit is Ricks Cafe. This is a beautiful restaurant in Negril along the coast. From the terrace you can see cliff divers and you have a terrific view of the sunset (if it is not cloudy). Do not forget that it can be very busy here. Busses full of tourists want to see the sunset, but fortunately, they all leave when the sun is set. This is the moment to order an excellent meal and enjoy the live reggae music.

Rhodes Hall Plantation - Horseback riding, scuba diving tour. Sunday - Friday

Country Western Riding Stables - 8:30 am - 5:30 pm daily

Charters can be arranged for half or full days through hotels or directly through operators. Approximate cost for half a day, US$300, includes boat, captain, crew and equipment. Four to six passengers, depending on boat size. Popular game fish include marlin, tuna, barracuda, bonito, kingfish and dolphin.

Independent operators:

Best Boat Reef Tour
Tel: 876-995-9709

Blue Whale Divers
Tel: 876-957-4438

Dolphin Divers
Tel: 876-957-4944

Sea Raider, Our Past Time
Tel: 876-957-4224

Wild Thing, Mahogany Inn
Tel: 876-957-4401/4402

Negril
Negril Hills is an 18-hole, par-72 course measuring 6,333 yards, with gently undulating fairways, elevated tees and greens, picturesque water hazards and lush vegetation. Located in the lush green hills high above the white beaches of Negril, this sporty course offers the challenging topography and natural beauty that characterizes the great golf courses of the world. A tennis court, restaurant, pro-shop and club house are all on the property.

In the craft markets and stores you can find items of wood (by Rastafarians and Maroons), straw, batik (from a number of good textile companies) and embroidery; the hand-knitted woollen gold, red, green Rasta caps (with or without black dreadlocks affixed) are very cheap. Jewellery from Blue Mountain Gems, near Rose Hall, Montego Bay area. For art and ceramics, Devon House gallery, Chelsea Galleries on Chelsea Road, Gallery 14, Old Boulevard Gallery, Grosvenor Gallery, Contemporary Art Centre in Liguanea. Blue Mountain coffee is excellent, cheaper at airport duty free shop than in supermarkets or tourist shops.

Please remember to check with legislation (and your conscience) before buying articles made from tortoiseshell, crocodile skin, and certain corals, shells and butterflies. Many such animals are protected and should not be bought as souvenirs. It is illegal to take or possess black or white coral in Jamaica; sea turtles are protected and you should refuse to buy products made from their shells. The closed season for lobster fishing is April-June, so if lobster is on the menu check where it has come from.

Some shopkeepers offer a 10-15% discount on all goods but in fact merely refrain from adding the tax when payment is made. Street vendors never add tax.

Photographic film is reasonably easily obtained but take spares of essentials such as Lithium batteries as they are difficult to find and expensive. Glare and UV light is constant, take suitable filters. Do not photograph Jamaicans without their permission, the men, particularly in Kingston, can get aggressive.

Optional Tours from $25 to $55

Negril Historical Sites, Shopping & Rick's Cafe: Stop in Negril for shopping followed by a drive through the interior of Negril. See the ruins of the three hundred year old great house. Visit the villages of Good Hope and Mt. Airy (visit a village pub with drinks included). Stop at the lighthouse before continuing to Rick's Cafe for sunset watching and cliff diving.

Sunset Booze Cruise: Cruise along the coastline while dining on a delicious Jamaican dinner. Stop for snorkeling at Joseph's Cave. Then on to Rick's Cafe to watch the cliff divers and the sunset. Unlimited drinks are included in this sensational evening.

Island Picnic: Sail on a catamaran to Booby Cay, a lovely little coral island just offshore. This is the island where "20,000 Leagues Under The Sea" was filmed. Enjoy snorkeling (equipment is included), swimming and relaxing; a sun-seekers paradise! Add drinks and a savory BBQ lunch to all of this and you have one fantastic day.

Dunn's River Falls & Highlights: This one-day tour of Jamaica's scenic, lush northcoast is a great way to become acquainted with Jamaica. The day begins with a drive into Montego Bay for breakfast. After breakfast you will pass through Falmouth and stop at Columbus Park, an open-air mini museum. Then off to Ocho Rios, where you will have a chance to buy souvenirs and to spend some time on your own having lunch. The high point of the day is a visit to the world famous Dunn's River Falls! Join in the fun and climb to the top of this 600 ft. glorious, cascading waterfall. For the not so adventurous, there is a lovely beach on which you may relax and enjoy the sun.

Optional Tours from $60 to $75

Black River Safari and Wyess (Y.S.) Falls: Travel along the beautiful southcoast by bus. Sail through the rugged terrain of the island's longest river - the Black River. Perhaps you will be lucky enough to see some of the wildlife in their natural habitat. A visit to the breathtaking Y.S. Falls is a great opportunity to get some beautiful pictures. Then relax and enjoy a sumptuous lunch.

Rhodes Private Beach Party: Enjoy a day of fun in the sun. You'll sail on a trimaran to a private beach where a picnic and open bar awaits. Go horseback riding on the beach. Tour also includes snorkeling at Coral Reef.

Belvedere Historical & Rafting: Let us take you back to the 18th Century to see how sugar was made by using a donkey to operate the mill. Plants and trees that you have never seen before await you. Then on to Lethe for river rafting on a bamboo raft. Complimentary drinks, fresh fruits (in season) and lunch are all included.

Evening on the Great River: Relax while you glide up the torch-lit Great River in a canoe. You'll be greeted with lots of rum punch and warm smiles. A Jamaican open bar, live reggae band, native floor show and sumptuous Jamaican buffet dinner await your arrival. Experience and enjoy the cultural life and tradition of the Jamaican people.

Coming Soon!

Coming Soon!