The pulsating sounds and vibrant glitter, glitz and glamour beckon in a world where time is measured at warp speed 24 hours a day, 7 days a week. Welcome to Las Vegas, where standards in world class hotels, dining, shopping, entertainment and gaming are hard to beat. Where the skyline continually evolves and expands, reflecting yet another generation of one-of-a-kind hotels.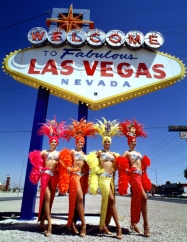 Exceptional golf, rafting, hiking and scenic tours are nearby, as well. From the Strip to Downtown´s Fremont Street Experience, feel the electrifying excitement that a day can bring you only in Las Vegas!
For years, Las Vegas has enjoyed its own place in American culture. Elvis, showgirls and neon lights are just some of the pop culture icons associated with the Entertainment Capital of the World. In recent years, Las Vegas has secured its place on the cultural map. From the highbrow to the kitschy, you can bet on Las Vegas to deliver a well-rounded dose of art and culture.
Las Vegas has been associated with glamorous entertainment for decades, and earned its designation as the Entertainment Capital of the World long ago. Today, visitors are still dazzled by sequin-clad showgirls and sophisticated lounge acts, but also enjoy an unparalleled variety of production shows, comedy revues, magic acts, superstar concert headliners and traveling Broadway performances. With nightclubs and hotel lounges in abundance, it's possible to be entertained until dawn.
Nevada law permits a wide variety of gaming, including traditional card and dice games, race and sports books, slot machines, cashless slot machines, high-tech electronic gambling devices and international games of chance that originated in Europe and Asia.
From thrilling roller coasters to virtual-reality simulator rides, from white tigers to wax museums, Las Vegas' attractions appeal to all ages and interests.