Featured Resorts: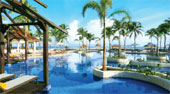 Hyatt Zilara and Hyatt Ziva Resorts
Cancun, Los Cabos & Puerto Vallarta, Mexico. Montego Bay, Jamaica
View More
Hold on to your summer a little longer and take advantage of our fall savings. Whether you choose an adults-only escape at Hyatt Zilara™ or the family-friendly fun of Hyatt Ziva™, you can discover unexpected adventures or relish in pure relaxation. It's all included — various dining options, oceanfront spas and our signature swim-up suites — and all bestowed with our genuine Service from the Heart™.
Offer Details
For More Information or to book your trip call us at: 888.314.2929
**Savings up to 55% off the published rate and varies based on travel date. Offer valid for new bookings made August 3, 2015 through September 15, 2015 for travel window August 3, 2015 - December 21, 2015. Travel Window for Hyatt Ziva Los Cabos September 15, 2015 - December 15, 2015. Blackout dates may apply. Offer may be changed or withdrawn at any time. Not responsible for errors or omissions.The Hyatt Zilara™ and Hyatt Ziva™ trademarks and related marks are trademarks of Hyatt International Corporations. ©2015 Hyatt International Corporation. All rights reserved. ©Playa Resorts Management, exclusive operator for Hyatt Zilara™ and Hyatt Ziva™. EM-Hyatt-081