Featured Resort
Azul Beach Hotel, by Karisma
$11 Million Renovation Video
Located on the beach of Bahia Petempich in Riviera Maya, Azul Beach Hotel by Karisma, Mexico's premier Gourmet Inclusive boutique property, recently announced the completion of its newly transformed suites and Azulitos Kid's Club. As a part of an $11 million renovation designed to enhance the guest experience, the intimate 90-suite hotel has unveiled a collection of new suite categories, ideal for families and couples, which are now up to 500-square-feet larger.
Our Featured Deals This Week: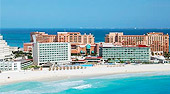 Krystal Cancun
Dominican Republic
3 nights starting at
$69.67
With views of the Caribbean Sea and Nichupte Lagoon, this polished resort serves as an upscale home away from home for families, dive-enthusiasts and spa-lovers alike. In the heart of the Hotel Zone, guests can dine at inviting restaurants; cool off under the refreshing waterfall; indulge in a treatment at the dynamic spa; mingle at the pool bar and unwind in polished guestrooms where contemporary décor, modern amenities and personalized touches create the ideal setting for relaxation.
Kids Stay Free!
Honeymoon Welcome Gift!
Pricing is Hotel Only. Need a different city? Check availability.
Check Availability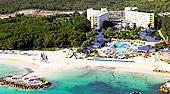 Breezes Resort & Spa Trelawny
Jamaica
3 nights starting at
$905.00
Fronting a private white-sand beach, Breezes Resort & Spa Trelawny provides super-inclusive fun for families and active travelers seeking a great value. From reggae to romance, guests are treated to an exciting kid's club, enjoyable entertainment, traditional spa services, superb restaurants and bar, a water park with water slides for both adults and kids, mini-golf, an offshore sunbathing island, supervised activities for kids and a circus school where guests can scale the rock climbing wall or learn how to fly on the trapeze.
Free Roundtrip Airport Transfers!
All Inclusive Amenities!
Pricing from Dallas. Need a different city? Check availability.
Check Availability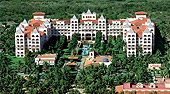 Riu Jalisco
Puerto Vallarta
3 nights starting at
$1,100.00
Combining charming Mexican architecture, distinctive ambiance and state-of-the-art accommodations, this alluring family-friendly getaway provides the perfect setting for unforgettable escapes. Polished guestrooms are fully-stocked with a mini-bar and liquor dispenser, while the array of sports and activities provide around- the-clock entertainment for all ages.
Kids Stay Free!
20% off Golf Discount
Pricing from Minneapolis. Need a price with air? Check availability.
Check Availability
This Weeks Travel Deals
Select your origin